W
e invite you to join us for our upcoming events — from our Annual Courageous Leadership Awards Brunch to our programs. Find out more about becoming involved with WAGV, and how you can participate below:
Upcoming Events
WHAT YOU CAN DO TO REMEMBER THOSE LOST TO GUN VIOLENCE AT
NEWTOWN, CONNECTICUT AND EVERY DAY IN THE UNITED STATES
 CALIFORNIA
RECOMMIT TO ENDING GUN VIOLENCE
Saturday, December 14, 2013
9:15 a.m.
First Presbyterian Church in the Courtyard
4963 Balboa
Encino, CA
This is an interfaith gathering to remember those who were killed at Sandy Hook Elementary School.  Sponsored by First Presbyterian Church, San Fernando Valley Chapter of the Brady Campaign and Moms Demand Action.  Participants are encouraged to bring a pair of new children's shoes or socks to remind us of the children whose lives were lost.  These items will be donated to the Family Rescue Center (Rescate).
REMEMBER AND RECOMMIT TO END GUN VIOLENCE
Saturday, December 14, 2013
9:30 am – 10:30 a.m.
Madison Elementary School
515 E. Ashtabula Street
Pasadena, CA 91104
 
The Gun Violence Task Force at All Saints Church invites you to this event featuring speakers, family-friendly activities, and resources for education and action.   Contact Norma Sigmund for more info at nsigmund@allsaints-pas.org or 626-583-2734
  
A CALL FOR REMEMBRANCE AND RESOLVE
Saturday, December 14, 2013
3:30 pm-6:30 pm
Federal Building 
11000 Wilshire Blvd. 
Los Angeles, CA 90024
Join Women Against Gun Violence, Moms Demand Action for Gun Sense in America, The Brady Campaign, Organizing for Action, Mayors Against Illegal Guns, Ikar plus other gun violence prevention organizations and faith communities in remembrance and honoring the lives lost to gun violence in the United States.
In honor of the Newtown Action Alliance's "26 acts of kindness" there will be a collection of new children shoes and socks to donate to the needy.
ANONYMOUS GUN BUYBACK (At The Three Locations Listed Below)
Saturday, December 14, 2013
8 am – 3 pm
 
Los Angeles Fire Department
Frank Hotchkins Training Academy
1700 Stadium Way
Los Angeles, CA 90012
Park & Ride Parking Lot 
1300 West Pacific Coast Highway
Wilmington, CA 90744
 
Van Nuys Masonic Temple
14750 Sherman Way
Van Nuys, CA 91405

Los Angeles Mayor Eric Garcetti and Gang Reduction & Youth Development (GRYD) encourage you to turn in your guns at 1 of the 3 locations across the City of Los Angeles and receive a Ralph's Gift Card (while supplies last)!  For more information call 1-877-LAPD-247 (1-877-527-3247)
Past Events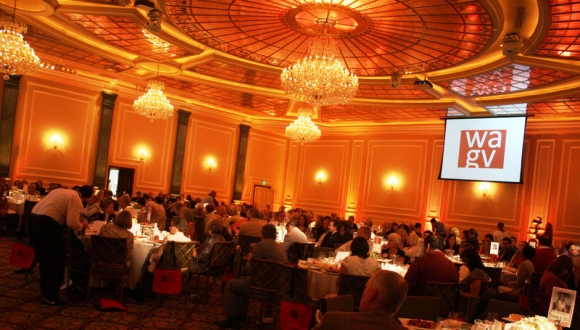 19th Annual Courageous Leadership Awards Brunch
On May 19th, WAGV held its 19th Annual Courageous Leadership Awards Brunch. Thank you to everyone who participated and helped make our event a success!
View photos of the event