Wake Up. Kick Ass. Repeat!
G
un Violence affects all of us every day, directly and indirectly. By becoming involved with WAGV, you can support the fight to end gun violence and help make our communities safer and healthier. There are several ways to become involved, including:
Join Us
If you can spare a few minutes a week from the comfort of your own home, making a phone call, writing an email or simply sharing information through social media,
WE NEED YOU!
Become a member of
WAGV
and we will notify you about upcoming events, what's happening with gun legislation, and simple things you can do to help reduce gun violence.
Learn
Learn about Congress and the NRA
It's been five years since the mass shooting at Sandy Hook elementary school. Since then, there have been over 220 school shootings across the country, and Congress has failed to pass federal law mandating background checks on ALL gun sales. Why? Maybe it's because too many of them have been purchased by the gun lobby. Find out where your Congress members stand with the NRA »

Take Action
Vote
The first and most powerful thing you can do to end gun violence is to VOTE, and to encourage all your family and friends to do the same. Bad politicians are elected by good citizens who don't show up to vote. Register to Vote!

Talk
Keep the conversation going: Talk to your friends, family and neighbors about guns. It has been a taboo subject for far too long and we need to normalize it. Find common solutions that appeal to both sides, like educating the public about gun safety, and enacting common sense laws like universal background checks that protect citizens while respecting the rights of lawful gun owners.
Contact us to bring the TALK Project to your school, faith group, hospital, or other organization.
Learn more about our TALK Project

Social Media
Social media is the political arena of our times, and is the best way to get a message out to a large group of people instantaneously. By simply sharing our messages and updates through social media, you can begin to affect change. Make sure you are following us on Facebook and Twitter.

Commit
· Ask friends to join us. Sign up a specific # of friends per week.
· Volunteer at events. Help pass out information at a Farmers Market or similar community event.
· Commit to calling, writing, emailing or tweeting Congress every week.
· Share Women Against Gun Violence  information through Facebook and Twitter three times a week.
· Ask your temple, church, school or community groups to bring in a speaker from WAGV or host a House Party featuring one of our speakers to educate your friends and sign them up as volunteers.

Be the Change
For far too long we've left the burden of gun reform on the shoulders of grieving parents and gun violence victims. It's time for the rest of us to "be the change."

Call
Here are the 50 Senators who voted NO to close the terror gap and make background checks mandatory on all gun sales. CALL THEM, and tell them you will VOTE THEM OUT: (202) 224-3121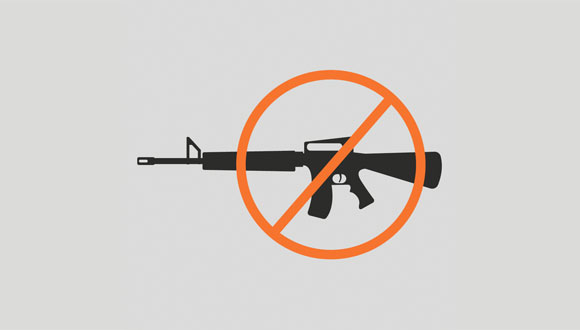 Sign our Petition to Ban Assault Weapons
We have joined over 90 organizations in our campaign to take weapons of war off our nation's streets.Please sign our petition